Camera benaderen op de webinterface via een Hikvision NVR/DVR
Hikvision NVRs have a unique feature that allows you to login to the camera's web GUI through the NVR's IP address.
The purpose of this is that many features aren't available through the NVR's web GUI alone, so this allows you to access the cameras more detailed web GUI to make finer adjustments to your cameras.
Hikvision Calls this "Virtual Host". By default, it is disabled which is good for security reasons. We advise people to only enable it when they need it and then disable it once they are done. You will also need to be on the same subnet as the NVR (on the LAN). This does not work remotely unless you've port forwarded the specific ports assigned to the cameras through the NVR.
To Enable Virtual Host:
Log into the Web GUI of the NVR -> Configuration Tab -> Network -> Advanced Settings -> Other Tab -> Check "enable Virtual Host"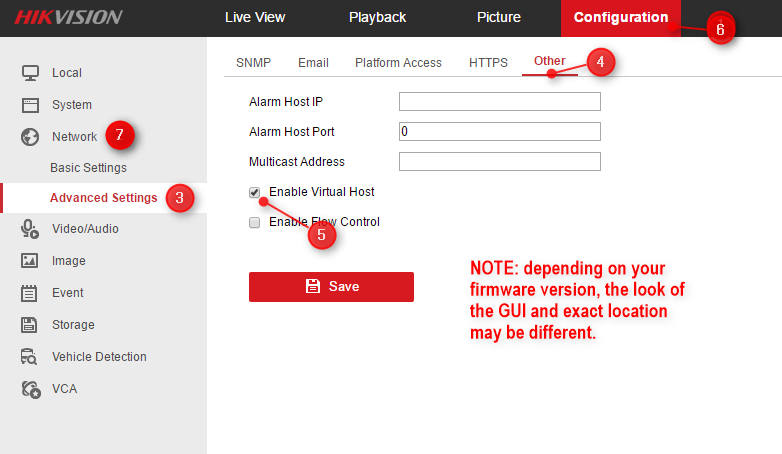 Connect to the Camera's Web GUI:
Configuration Tab -> System -> Camera Management -> Click on the link in the "Connect" column next to the camera you want to connect to

The camera's web GUI should load in a new tab with a URL similar to this:
You'll notice that the 65001 port number is different for each camera.
NOTE: the snapshots above are to help guide you but Hikvision may change the layout after a firmware update so these may be slightly different on your NVR.
---
---
---